After much anticipation, Avenged Sevenfold announced the release of their upcoming album, "Life Is But a Dream…" on June 2, 2023. The album features 11 tracks and was written and recorded over the span of four years.
In addition to the album announcement, the band has released a video for the single "Nobody," which is available now on all major music platforms, along with a video you can watch below.
The album draws inspiration from the writing and philosophy of Albert Camus, an influential French philosopher, and author. Avenged Sevenfold's creative exploration of existential themes is a departure from their previous work, "The Stage", which explored themes of technology and artificial intelligence. However, Avenged Sevenfold has always been a band unafraid to take risks and push the boundaries of their sound. With Life Is But A Dream, they continue to do just that, cementing their place as one of the most innovative and respected metal bands of our time.
Produced by Joe Barresi and Avenged Sevenfold in Los Angeles, and mixed by Andy Wallace in the Poconos, PA, the album is a masterpiece that requires a "full listen-through to truly appreciate its musical breadth and sonic depth."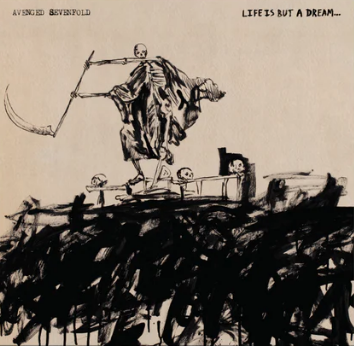 The track listing is as follows:
Game Over
Mattel
Nobody
We Love You
Cosmic
Beautiful Morning
Easier
G
(O)rdinary
(D)eath
Life Is But a Dream…